About Tripline
A note from Founder and CEO Byron Dumbrill
Thanks very much for visiting. We've worked very hard to create something unique with Tripline, and I hope you enjoy what we've built so far. The product is still in Beta and we release new features regularly, so if there's something you'd like to see, please contact us. I'm pretty busy, so I'll respond as quickly as I can.
Your Plans Become Your Stories
One of the earliest concept slides I put together had a simple statement: "Planning is a creative process." And like any creative process, planning travel begins with an idea, moves on to a sketch and details are refined over time. You're never really done, and it's never perfect. So I wanted to build Tripline as a way for you to create your initial sketch, and make the product flexible enough to let you turn a fun sketch into a refined plan. And, the cool thing is that if you use Tripline that way, you already have the framework of a story to tell. Just add photos, a bit of text and share with your friends.
Share With The People You Care About
At its most basic level, Tripline is a way for you to communicate by putting places on a map. That's a very human activity that has been happening for thousands of years. Tripline adds a social layer to that communication so, whether you're a regular person or a rockstar, you can share where you're going, where you are and where you've been with the people you care about. That could be your family, your friends, or all of your fans on the web...it's up to you.
A Window On The World
Aside from the most obvious use (travel planning and sharing), I've built Tripline to help you tell any story that involves moving across the map. If you like history, you could use Tripline to create The Midnight Ride of Paul Revere or Lewis & Clark's Journey. If you're into current events, you could create The Inauguration of Barack Obama or Capt. Chelsey Sullenberger's famous Flight of US Air 1549. When I first started, I was amazed that map-based visuals of events like these were so difficult to find online. I think now that Tripline exists, that sort of map-based content will have a home. And the possibilities are endless: author and band tours, charity walks and rides, culinary adventures, fictional trips from books and movies, sporting events, scientific expeditions, etc. Here's an example:
Maps As Media Objects
The story behind the origins of the Tripline concept goes back to May of 2005. My girlfriend (now wife) Vivien and I were planning our first vacation together: an epic 15 day trip to Costa Rica. While we were planning - laptops side-by-side on a table scattered with maps and guidebooks - I became overwhelmed with the complexity of the trip and realized that I needed a visual overview. I started downloading map images and drawing lines. I can still remember her sideways glances...she thought for sure I was procrastinating or just goofing around. But, like any good team, we started working together; she would focus on research and I would add items to the map. Periodically we'd review the visual plan and make adjustments to simplify. Both of us hate covering the same ground twice, so the map was very helpful in identifying inefficiencies. After many hours of work, the result was the very first Tripline: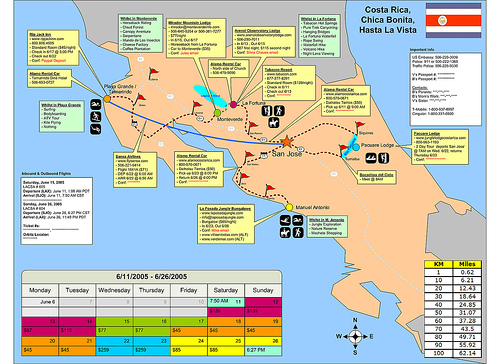 The Very First Tripline
I tried to make the map-based plan both fun and useful - two of the core product principles at Tripline. You'll notice a silly title, images of activities like SCUBA diving, overuse of the word "whilst" as well as a lot of practical logistics information. You'll also notice that the whole plan fits on a single page. That meant that we only needed to have one piece of paper readily accessible throughout our journey. It ended up being incredibly helpful.
What I didn't realize at the moment was how useful the map would be after the trip. When I uploaded our photos to Flickr, I added the map as the first image in the set. Friends immediately started commenting on how cool it was (and making fun of me for being so detailed). They said they really understood where we went and what we did; things that photos don't convey. That was the first brief moment of realization for me. But, what really surprised me was perhaps a year later when a good friend of mine asked me where we stayed in Costa Rica - he had just started planning a trip there with his wife. Instead of digging through old emails/papers/itineraries, all I had to do was send him a link to the image. It took less than a minute. In fact, I've sent the same image to many of my friends and they've all used it as a reference for their own plans.
It struck me that a map was a new type of media object, similar to a photo or a video. Having spent years running product teams at Jumpcut and Yahoo!, I also understood how to build services that centered around the creation, sharing and presentation of media objects online. So, I set out to build Tripline: an online application to create and share maps. As you look around the Tripline site, you'll notice that the presentation is very similar to what you might find on a photo or video sharing site - that's by design. I feel that people naturally understand this style of content presentation thanks to services like YouTube that helped to define the standards. Given the information-overload style of many online travel services, I'm hoping that Tripline's media-object-based design will be a breath of fresh air. The goal is to bring content to the forefront, make it entertaining, make it easy to share and provide a solid anchor for each map that you create. I hope you like it.
By the way, here's the same trip, now on Tripline:
A Long Road
Building a new product is always a more difficult process than you think it will be at the beginning. Even if you've done it many times before, nostalgia somehow eliminates the pain of 18 hour days, 7 day weeks and complete uncertainty. So you jump in, start defining concepts and before you know it, you're too far along (and you've told too many people) to turn back. You do what my Dad always says is the most important thing: you keep moving forward. You also have to postpone many of the amazingly cool ideas you have in the conceptual stage in order to get something built and out in the world. As I look at Tripline today, there are hundreds of features in my head that aren't yet part of the product, and also a bunch of stuff that I want to remove to make the experience simpler. To give you a perspective on how I make product decisions, here are the Tripline product principles, right from the pitch deck:
Simple and useful
Social
Mobile and real time
Open and integrated
Visual and fun
I'm not anywhere near 100% mark on any of these, but I feel that the product has a stable base of functionality, a solid architecture and a great roadmap. I'm also hoping that feedback from the user community will contribute significantly to future development, so don't keep quiet. You can send feedback via Tripline Help
The Company
Tripline is 100% self-funded, so everything here is on a very small budget. Tripline HQ is a converted garage and for now, it's only me working on the product. I'm open to investment interests, but these days I'm mainly focused on building a great product and growing the community. I'm not going to go too deeply into the business model, other than to say that there is a plan, it will be a natural fit with the product and complementary (i.e., not intrusive) to the experience. My belief is that products are most successful when they fulfill needs, and the revenue-generating component of the business will be treated accordingly.
The Platform
The product uses a number of excellent third-party platforms. I want to mention some of the key ones here as way of saying thanks.
Open Source Software
Tripline runs on a LAMP stack and uses JQuery, Bootstrap, Backbone.js, Underscore.js, Backbone.js and the amazing Framework7 for our iOS and Android apps. I'm always impressed by the skill and dedication of the open source community as well as all the amazing software that's available. Thanks to all of you open source developers out there, and thanks to all of the companies that allocate resources to open source development.
Google Geo APIs
Google has amazing set of geo resources that are at the core of the Tripline experience. Tripline uses the Geocoder API, JS Maps API, and Static Maps API. I've been consistently impressed with the capabilities and ease of use and I'm looking forward to a lot of new features. Thanks Google. code.google.com/apis/maps/
Amazon Web Services
Tripline is hosted on AWS using EC2, S3 and Cloudfront. So far, we've had close to 100% uptime, management is easy and it's very cost-effective. aws.amazon.com
Facebook
Tripline is fully integrated with the Facebook Graph API. It's a great social platform and enables our users to publish their maps and checkins for all their friends to see. The Facebook platform also allows our professional users to publish their maps directly to their Facebook Fan pages and share engaging content from Tripline with their audiences. developers.facebook.com
Instagram
Instagram users can connect their accounts and import their photos into Tripline. The Instagram API is nice, simple and easy to work with. instagram.com/developer/
Foursquare
Our Foursquare integration enables our users to create Tripline maps from their Foursquare checkins in seconds and visualize their lives like never before. The Foursquare platform is great to work with and their platform team is fantastic. developer.foursquare.com
Twitter
Our Twitter integration goes two ways. Twitter users can connect to Tripline and import their geo-enabled tweets to map their Twitter travels. They can also choose to publish Tripline checkins to Twitter automatically to bring followers into their Tripline maps. dev.twitter.com
Tripit
Tripit users can connect their accounts to Tripline and import their itineraries to visualize their plans and share their travel stories. We're big fans of Tripit and we're glad to be included on their list of recommended tools
Flickr
Kudos to the original Flickr team for building such a great photo service. Adding Flickr photos to your Tripline maps is a snap, and the Flickr developer APIs are super-easy to work with. code.flickr.com
Thanks
If you've read this far, you're a loyal fan, so thanks for your interest. I'm excited to see how the world unfolds for Tripline, and we'd be happy to have you as part of the community. If you haven't already, sign up and start creating maps. I think you'll like it.
- Byron